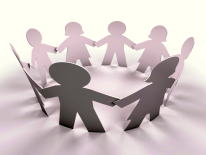 Registration
Community associations can register with ABCA to receive notices regarding alcoholic beverage applications that are placarded within the area they represent.
Register with ABCA by completing a registration form (below) and submitting it along with a copy of the community association's articles of incorporation or bylaws. Submit documents to ABCA Community Resource Officer Sarah Weniger by:
Mail: 2000 14th Street, NW, Suite 400 South, 4th Floor, Washington, DC 20009
Protests
An incorporated community association can protest a placarded license application if:
Membership in the association is open to all residents of the area represented by the association.
A resolution supporting or opposing the licensee's application is submitted at a meeting conducted under the association's bylaws or articles of incorporation.
Notice of the meeting is provided at least 7 days before the date of the meeting to any affected ABC licensee or applicant.
A community association does not need to be registered with ABCA to file a protest.
Meetings
ABCA Community Resource Officer Sarah Weniger is available to attend community group meetings to answer questions related to alcoholic beverage licensing processes. Contact ABCA at: