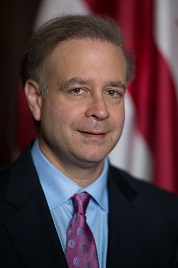 Fred Moosally has served as the District of Columbia's, Director of Alcoholic Beverage and Cannabis Administration (ABCA) since 2009. Prior to leading ABCA, Director Moosally helmed the agency's adjudication division as the General Counsel for seven years. He has more than 20 years of experience in local and federal government.
During his tenure, Director Moosally has focused his efforts working on smart legislation to boost access to DC-made products, deliver outstanding customer service, solicit and incorporate community input, incorporate transparency, and protect the health and safety of residents and visitors alike. His efforts have earned ABCA national accolades including the National Liquor Law Enforcement Association's Agency of the Year (2018) and Innovative Alcohol Law Enforcement Program of the Year (2017 and 2020).
Director Moosally received his law degree from The Catholic University in 1997. He graduated from James Madison University in 1992 with a Bachelor of Science in Political Science and History. Director Moosally is a proud DC resident and calls Ward 3 home.