Wednesday, August 28, 2013
ABC Licensed Establishments Required to Post New Sign by Wednesday, November 27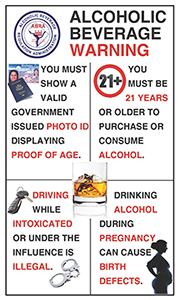 (Washington, DC) – The Alcoholic Beverage Control Board (Board) unveiled a new alcoholic beverage warning sign today that will be posted in approximately 1,800 ABC licensed establishments in the District. Licensees are required to post the new sign in a conspicuous place on the licensed premises by Wednesday, November 27.
The new sign provides several benefits to the public and ABC licensees. It allows the Alcoholic Beverage Regulation Administration (ABRA) to address several warnings and requirements for consuming alcoholic beverages in one posted notice. Messages on the sign include:
You must show a valid government issued photo ID displaying proof of age;
You must be 21 years or older to purchase or consume alcohol;
Driving while intoxicated or under the influence is illegal; and
Drinking alcohol during pregnancy can cause birth defects.
The sign will also reduce the number of notices an ABC establishment is required to post on its premises.
ABRA collaborated with a committee comprised of representatives from local hotel, restaurant, nightclub, and merchant associations to design the new sign in accordance with District law.
"We hope this new sign will assist with clearly communicating to the public the legal requirements for consuming alcoholic beverages and the risks that can be associated with doing so," said ABRA Director Fred Moosally. "We appreciate the time and effort of everyone on the committee. We will be working closely with ABC licensees over the next few months to ensure the signs are properly posted."
Letters are being mailed to all ABC licensees with instructions for obtaining the new sign, which may be picked up at the ABRA office:
When: 8:30 am to 4 pm, Monday-Friday
Where: Frank D. Reeves Municipal Center, 2000 14th Street, NW, Suite 400 South, 4th floor
Licensees may contact ABRA with questions at (202) 442-4423 or [email protected].